Today is Celebrate Teen Literature Day, a part of the American Library Association's National Library Week! The following titles are also nominees for this year's Andre Norton Award for Young Adult Science Fiction and Fantasy, an award that is presented each year by the Science Fiction and Fantasy Writers of America (SFWA) alongside the Nebula Awards. Previous nominees include J K Rowling, Suzanne Collins, Terry Pratchett, Holly Black, and Scott Westerfeld.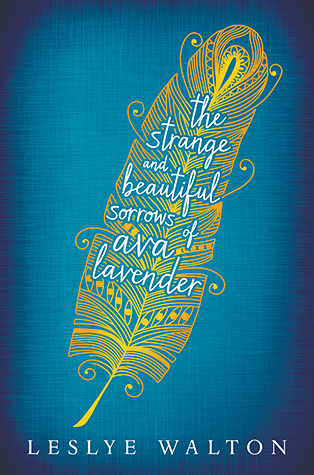 The Strange and Beautiful Sorrows of Ava Lavender by Leslye Walton
Born with the wings of a bird, Ava Lavender desires to learn of the wider world, naive to the motives of those who live within it. This is how she meets Nathaniel Sorrows, who becomes obsessed with her, believing that she is an angel.
Salvage by Alexandra Duncan
Ava is a young teenage girl living aboard the male-dominated deep space salvage vessel Parastrata. Rather than face banishment and death, she escapes to an Earth ravaged by rising global temperatures and makes a home for herself on Gyre, a continent of scrap and trash in the Pacific Ocean.
After meeting Maia, a piano prodigy imprisoned in her own home, Cass must use her wits to help free her new friend. But even after they escape their trials are not over, as it appears Cass has mistakenly awakened an ancient evil that is threatening to take away everything. Dirty Wings follows All Our Pretty Songs in the Metamorphoses Trilogy.
The smuggler's inn known as the Greenglass House is filled with mysterious occupants this winter, and it's up to Milo, the innkeepers' son, and Meddy, the cook's daughter, to discover the secrets of the house, its visitors, and their families.
After Jared, the boy she loves, is presumed dead, Kami Glass must rely on the strength of her magical bond with her friend Ash to face the evil spreading around her and save her town and loved ones. This is the third book in Brennan's Lynburn Legacy, a series that blends Nancy Drew-type detective tales with Gothic romance.
In merely a few days a deadly flu begins to sweep the country, forcing quarantines and martial law. Emily Bird may be the only one who knows how to stop it. Unfortunately, she has no memory of the past few days, and must team up an unlikely companion to uncover a government scandal.
Glory, a graduating high school student, has gained the power to see infinite pasts and futures. Bombarded by visions of tyranny, slavery, and civil war, it is up to her to stop this terrifying future from becoming a reality.